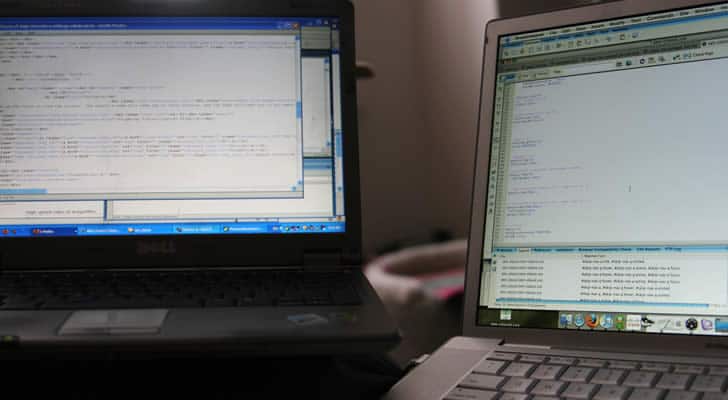 Every craftsman needs a good set of tools. Every carpenter needs a good set of hammers and saws, every blacksmith needs a quality set of anvils and hammers, and every artisan leather crafter needs a sharp set of awls.
Web designers and web developers are no different. Every web designer and web developer needs a good laptop to call their own. Just to be clear, we use this definition of web design in this article.
Because we all have different needs, it's important to shop around and make a careful and considered choice when choosing a laptop. The wrong laptop may hinder your web development efforts, so it's important to choose the right one to fit your needs. If you're a road warrior, for example, you'll want to look at ultra-portable laptops or portable computers that prioritise battery life and weight, but if you're a power user, you may want to examine desktop replacements that come with powerful components.
This article will provide tips and guidance to help you choose the right laptop for web design and web development. However, the right laptop is not enough. If you want to build a career, you need the right skills in web design, UX Design, Usability and related fields. You can get these skills by taking one of the many online design courses at the Interaction Design Foundation.
1. Choosing an Operating System
The first thing to do, before even looking at any model is to decide which operating system you would like to use on your new laptop.
The four most commonly used operating systems for web design and web development are Chrome OS, Windows, Mac OS X, and Linux. Each of them is available on a wide variety of portable computers with varying specifications, and each have their own distinct advantages and disadvantages.
Chrome OS (Aka Chromium OS)
Chrome OS is the simplest and most straightforward operating system available today. The operating system, created by Google, is very similar to the popular Chrome web browser, except transformed into an operating system.
Unlike the other three operating systems listed above, ChromeOS doesn't have a file browser, and it doesn't run applications. Instead, all web design development work has to be done through browser-run web apps.
For designers and developers who like to code directly in raw HTML and CSS, and don't like using code editors or interactive development environments, Chrome OS is a fine, albeit limited, choice.
Linux
Linux is arguably the most difficult to use operating system available today. Many commands need to be entered directly into the command line, which can be rather daunting and unintuitive. Installing apps and making changes to the operating system can be difficult, too.
However, despite having a steep learning curve, Linux is arguably the most powerful and customisable operating system available today. It can be customised to match your specific needs exactly, allowing you to create your own perfect development environment.
Perhaps the most 'user-friendly' derivation of Linux is Ubuntu which is a free operating system for desktop and mobile devices.
Mac OS X
Apple's Mac OS X is a powerful operating system. Aesthetically pleasing, easy to use, and immensely powerful, OS X is quickly becoming the operating system of choice for web designers and web developers with deep pockets.
Due to its Unix underpinnings, OS X is excellent for web development, with the built in Terminal providing easy access to tools like git, virtualisation software, and more.
Unfortunately, Mac OS X is only available on Apple units, which are often more expensive those that are manufactured by other companies.
Windows
Microsoft Windows is the most popular operating system in the world. According to recent statistics, approximately 90% of computers worldwide run the operating system.
There is still much debate about whether Windows 8 or Windows 7 is the best. In addition to this the most recent Windows release, has received a lot of criticism. Yet it is still a great, reliable, sturdy operating system. Windows 8.1 is also hoping to address many of the criticisms users have made about Windows 8.
The Windows web design and development community is excellent, with many programs and tools available for Windows that aren't available on other operating systems. Windows is also available on a variety of laptops at different price points, making it the most flexible of the four operating systems listed above.
2. Setting a Budget
Before starting your laptop search, it's important to set a budget to work with.
Web designers and web developers are rather lucky. Unlike graphics programmers or computer scientists, web design doesn't tax computer hardware much. A fast CPU and a decent amount of RAM is all that's needed for most web development work. Expensive graphics cards and ultra-performance CPUs aren't that much required.
Most models fall into one of four price brackets:
Budget —$150-350
Mid-Range – $350-700
High-End – $700-1000
Performance – $1000
If you're looking to keep your laptop for a few years, it might be worth splashing out on a more expensive model. However, don't worry if you're on a strict budget. There are a number of excellent units available in all of these price brackets.
3. Choosing Appropriate Specifications
Before starting your search for a laptop, make a list of the tasks you'll be using it for. This list will help guide you when comparing different models with different specs.
If you'll be diving into Adobe Photoshop or GIMP on a regular basis, it's important to choose a laptop with a fast CPU able to quickly render effects and carry out computations. However, if you'll be spending most of your time in Sublime Text, Firebug, and other development tools, a slower ULT Intel i3/i5 or AMD A8/A10 APU should be able to meet your needs.
If you'll be moving around a lot, then it'll be important to choose a laptop that is light and has great battery life. Laptops that use Intel's ULT Haswell architecture are normally a great fit for people that are constantly on the go. They last up to 10 hours on a single charge, they're light, and they're able to deliver power when needed by using a 'turbo boost' mode capable of delivering up to 100% extra CPU power on demand.
If you'll be spending most of your time using your laptop at a desk, you might be better off with a desktop replacement laptop. These portable computers normally have large 15.4"/17" screens and they're normally fitted with powerful hardware inside. In general, they are quite heavy, however, and they normally have poor battery life.
It's also important to get a laptop with a good quality trackpad and keyboard. At the moment, Apple is the gold standard when it comes to trackpads and keyboards, but other companies – mainly Lenovo, Samsung and Sony – are quickly catching up.
Finally, it's important to choose a laptop with great service and a great warranty. Nothing is worse than being without your laptop for a few days if it suddenly breaks, so make sure to purchase a laptop with a reliable repair and replace program.
4. Factors To Look Out For
Budget
The budget laptop space belongs to Chrome OS and Linux exclusively. Samsung, HP, and Acer are the main players in this market, with a variety of laptop models available to buy at affordable prices. Make sure to try them before buying one, though, as trackpad / keyboard / screen quality can vary wildly.
Mid-Range
The midrange market is mainly dominated by Lenovo, Dell, Acer, Samsung, and HP. They offer excellent units that are perfect for any web design task. Plus, they are available at flexible price points.
Make sure to shop around when looking at midrange models. Bargains are available, providing you're willing to look for them.
High-End
Sony, Samsung, Apple, and Lenovo rule the high end laptop space with a variety of different units available, each with their own distinct advantages and disadvantages. Of these manufacturers, Samsung, Sony, and Lenovo are arguably the best, with Lenovo's iconic Thinkpad range being particularly excellent value for money.
Apple portable computers normally come at a steep premium, making them relatively poor value for money compared to those from other manufacturers. Some bargains are available in Apple's online refurb store, though, with discounts as high as 20%.
Performance
The performance category belongs to Apple, Alienware, Sony, and a few others. These companies all produce incredible machines that boast best in class performance and features, but they often come at a great cost.
Apple's machines in this range are amongst the best in the marketplace. The Macbook Pro with Retina Display, for example, is a web developers dream machine, with a lightweight, sturdy aluminium body, and a high resolution IPS display with perfect colour reproduction.
Competing machines from Sony, Alienware, etc. normally trip up in an area or two compared to the Macbook Pro, but they're still worth considering if you prefer Windows and Linux to OSX.
Summing Up
Buying a new laptop can be a daunting process, but it can also be incredibly exciting. Make sure to take your time when choosing a new laptop. The right laptop can be worth its weight in gold, so make sure you make the right choice. Shop around, try out some different models from different manufacturers, and keep searching until you find 'the one'.
And remember, the wrong laptop is never a good deal, no matter its price. Don't jump at the first deal that catches your attention – make a careful, well informed choice, instead.