If you use either Windows 10 or macOS Sierra and you have been curious about the other party, or even if you are just considering an upgrade, you have come to the right place.
Two weeks ago, I wrote an article comparing a the two most widely used consumer-oriented desktop operating systems. The article explored differences in the way that the two companies addressed user interface (UI) and artificial intelligence (AI) implementation.
If you missed Part 1 of this series, I recommend you check it out before going further. I think you will find the results were very interesting. In Part 2, I will dive into questions of mobile integration and multitasking – two very important features to get right for any operating system (OS).
In fact, the way things are going in the industry, you can expect multitasking and mobile integration to converge in ways previously only dreamt of in sci-fi movies and books.
But let us focus on the present.
Windows 10 vs. macOS Sierra – Mobile Integration
Mobile continuity is becoming more relevant with each passing day, week, year … there is no escaping it. As mobile operating systems continue to grow, they are giving desktop OSs a run for their money.
Considering that two of the three major players in the mobile OS industry are also major producers of desktop operating systems, it seems almost counterintuitive to let the two arms compete with each other, right?
Microsoft figured that out pretty quickly, when it scrapped Windows Mobile 6.5 in favor of Windows Phone 7, its first foray into the world of mobile continuity. Since then, Microsoft has done everything it can to make the Universal Windows Platform (UWP) just that — universal.
macOS Sierra
With macOS Sierra, Apple has continued its tradition of partially integrating iOS into the desktop experience. There are a few standout features that makes this combo quite powerful.
First and foremost, Siri has made it to the Mac experience, bringing the powerful personal assistant to the desktop. You can read more about this feature in Part 1.
Apple has also made a significant impact on its ecosystem by bringing users the Universal Clipboard, which makes it easy to copy something on one device, and then paste it on another. Got an address in your computer? Copy it on the desktop, and paste it into your maps app in iOS.
Similarly, with iCloud Documents and Desktop, Apple has brought another avenue for sharing between desktop and mobile. Just as you might use Dropbox to move something from one device to another, iCloud Documents and Desktop gives you online storage, and anytime access.
Another standout feature is that Apple Pay has made it to the desktop. For anyone that has used Apple Pay, this ought to speak for itself. The powerful payment option makes it as quick and easy to complete transactions on desktop as it is on mobile.
If you own an Apple Watch, you are in luck. Auto Unlock allows users to unlock their devices by simply approaching them while wearing a watchOS device. Very cool.
Shared notes add another layer of productivity to the ecosystem. Just like the Universal Clipboard, shared notes give users the ability to jot down notes on-the-go, and then access them whenever they like from the desktop.
iMessage has been on OS X for quite a while now and that has not changed with the release of macOS Sierra. Users can still text other iOS users from their desktop, and it is still one of the coolest features of this operating system.
Windows 10
Of the two, Windows 10 distinguishes itself more as a cross-platform operating system than as a mobile friendly one. That is because Windows 10, like previous incarnations of Windows, is a cross-platform OS that works on both mobile devices and desktops alike.
As such, rather than employing nifty tricks for shuffling along information from one OS to another (which is still really cool, and very useful), Microsoft has focused on a few key points.
The first, is making apps universal thanks to the Universal Windows Platform (UWP). That means the same app that runs on mobile, can run on desktop. Users do not need to acquire two different versions of each app, face two different app stores, etc.
More importantly, this means that developers have much less work. Make something once, release it in two places. Sounds pretty good to me.
But that is not all. There is one rather cool feature in Windows 10 that sets it apart from macOS in a very unique way. I am talking, of course, about Continuum.
Continuum allows users of select Windows Phones to essentially mimic the full windows desktop experience by plugging into a monitor.
Picture this, you have just come home from work, and you have got a spreadsheet open on your Windows Phone. As soon as you step inside, you plug your phone into your desktop monitor, and voila! The spreadsheet and all your apps are now on the desktop.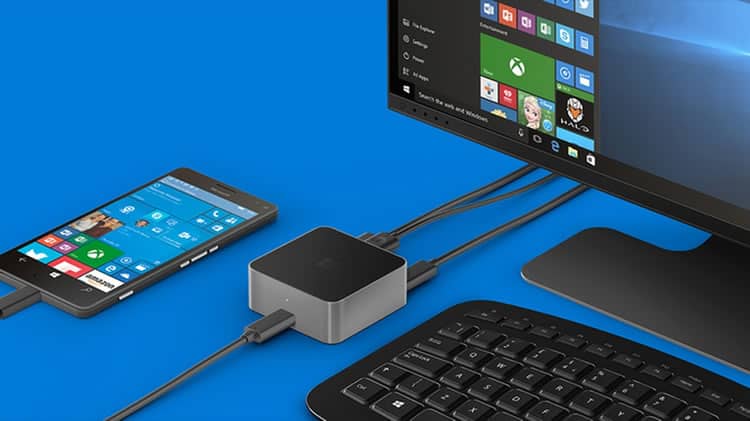 Continuum is like a diet version of Windows 10, giving you a very close-to-perfect rendition of the full desktop experience, even if it is missing just a few features.
Windows 10 vs. macOS Sierra – Multitasking
Multitasking is a necessary part of daily life. We all juggle multiple things throughout the day and we expect our devices to keep up with those needs.
For the most part, Windows 10 and macOS Sierra offer pretty much the same experience, although Apple's offering is a little more refined.
With the release of Windows 10, Microsoft has made some significant advancements in the way that it supports multitasking — even if they essentially mimicked Apple's way of doing things.
Features like Mission Control, Expose, Spaces, and TaskBoard have given macOS a sizeable advantage over Windows for a long time now.
With the release of Windows 10, however, Microsoft has made some pretty serious changes to the way that users can interact with the operating system, introducing trackpad gestures, multitasking view, multiple desktops, and a pretty advanced grid for snapping windows in place.
As of its latest release, Microsoft has essentially leveled the playing field, albeit at the cost of innovation.
Even so, the significant improvements to multitasking on Windows mean that there are now substantially fewer reasons to switch from a Windows machine to a Mac one, since multitasking shortcuts were one of the biggest selling points of the latter in recent years.
Conclusion: A Rather Annoying Stalemate
If you were looking for an easy choice, then you are comparing the wrong things — try apples and oranges. You can always have an apple today, and an orange tomorrow. With desktop operating systems, however, your choice will follow you around for at least a couple of years, because who in their right mind changes computers any more often than that?
So, in terms of mobile integration and multitasking, how do we breakdown the strengths and weaknesses of the two major desktop OSs?
It turns out that they are pretty similar.
Multitasking is virtually the same on both platforms, even if Apple's OS does it a little more smoothly.
In terms of mobile phone integration, it is not as black and white. Apple's version is superior in today's world. The ability to perform tasks across multiple devices is a massive advantage. Who would have thought five years ago, that cross-platform copy and paste would be a reality?
Even so, Microsoft's offering is not very far behind. Although continuum does not quite makes sense in today's world, it might make sense in the world of tomorrow.
The philosophy is just different.
Instead of improving the desktop experience with mobile OS features, Microsoft has chosen to begin preparing for a world without desktop operating systems. It seems reasonable to predict that in the future, we may be exclusively using mobile devices.
As such, having the ability to use a mobile device in "desktop mode" could prove to be a crucial selling point in the coming years. We will just have to see what the future holds.
Want to learn more?
If you'd like to…
learn all the details of Usability Testing
get easy-to-use templates
learn how to properly quantify the usability of a system/service/product/app/etc
learn how to communicate the result to your management
… then consider to take the online course Conducting Usability Testing.
If, on the other hand, you want to brush up on the basics of UX and Usability, then consider to take the online course on User Experience. Good luck on your learning journey!