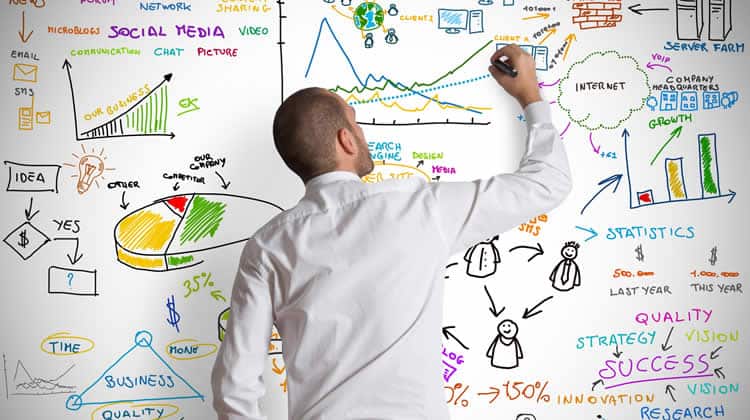 Getting to grips with the ins and outs of a UX competitor analysis can help you know your market, product and goals better. You will also understand the competition, get actionable insights and boost your brand. With an almost limitless number of competitors out there all vying for attention, the heat is on to understand exactly what you are doing right (or wrong) to create an effortless user experience and a product that people enjoy using.
What is a UX Competitor Analysis and How do You do One?
UX competitor analysis is one of many UX research methods and if you'd like to get practical skills within a wide range of UX research methods, then we suggest you take the course called "User Research – Methods and Best Practices" by the Interaction Design Foundation. This article will only cover one such research method, namely UX competitor analysis.
There is a lot that goes into doing a thorough UX competitor analysis, but at its heart, a competitor analysis consists of two basic phases:
Knowing how to research properly and understand exactly what information you are looking for.
Synthesizing that information before acting on your findings.
A competitor analysis means knowing your product or service like the back of your hand and stacking that up against the competition out there. There are standard principles (aka heuristics and heuristic evaluation) for user interface design which can be used when conducting a competitor analysis. These principles are a general guide and are not set in stone, so you are free to create your own set of standards. These can include anything from specific UI patterns to interaction models.
Daniel Newman at Forbes points out that "if you don't look at the data showing what you're doing wrong in CX and UX, customers will leave your site, store, or app. It's no longer a question. There are simply too many other options available to accept a less-than-stellar experience"
One way to know where you are going wrong is through a competitor analysis.
Why do a UX Competitor Analysis?
There is a multitude of reasons why you would want to carry out a UX competitor analysis. One simple reason is that you have not done one before. It is always beneficial for UX designers to acquaint themselves with research methods to better inform their design practice. Aside from that, however, there are some other important reasons why you would want to do a UX competitor analysis:
To help you solve usability problems, as per this definition of usability
To understand where your product or service stands in the market
To inform the design process
To know the strengths and weaknesses of your competition
To have reliable evidence when making product changes
To focus your efforts in a target market
The Benefits of Carrying out a UX Competitor Analysis
Carrying out a UX competitor analysis will empower your business choices. But how? Through researching the competition, you can glean insights from the data you collect and make informed UX design decisions.
Market Gaps
A competitor analysis allows UX designers to find out if there are any gaps in the market. For example, through your research, you may discover a feature that your competitors' products do not have. Imagine you identify a feature that would help an underserved market, let us say students in this case. By understanding the gap (that is, students' likes and dislikes, interests, values, budget etc.) you will be able to plan for this feature better and make sure of its popularity among target users.
Developing Products or Services
As UXers, we iterate products and services countless times. But these iterations must be backed up with evidence and research. When you identify market gaps, like in the previous example, you can fill them by developing your product or service accordingly.
To illustrate, say you offer a monthly and annual subscription for a non-descript music service. After carrying out your competitor research, you have found out that these are the two most common payment methods. But you also discovered through your research that many of your users are students who signed up to the free version and then disappeared. You could use these insights to develop a new subscription at a discounted student price.
That is just one way of using what you learn from competitor analysis to improve your product.
Are there any Limitations to a Competitor Analysis?
Unfortunately, a competitor analysis is not the solution to all your UX woes. While it is preferable to conduct a UX competitor analysis and it makes sound business sense, there are some pitfalls to the method.
James R Lucas in his book Fatal Illusions: Shedding a Dozen Unrealities That Can Keep Your Organization from Success says, "as long as we appear to be doing better than someone else, we can feel that we must be doing well, so we don't need to change."
Lucas perfectly highlights one of the limitations of the UX competitor analysis: that you can be on the same level, if not higher than your competitor, but this does not give you information to really innovate and lead. If you spend too much time looking at a competitive analysis, you may be missing the mark when it comes to creating truly innovative solutions. You can use your insights to create a strategy that will generate an asset or skill that competitors do not have, but that is down to your ability, not the competitor analysis.
Likewise, another limitation to the UX competitor analysis is that the insights gleaned from the information are only as good as the person understanding and interpreting them. Jennifer Cardello points out that the biggest issues with analytics is that it can become a "distracting black hole of "interesting" data without actionable insights." Depending on how well you can evaluate the information will determine how valuable that information is.
How to do a UX Competitor Analysis
1. Understand your goals
Why are you doing this competitor analysis? What do you hope to achieve? Will this research impact UX decisions? Your goals should ideally be as specific as possible and hopefully assessable so consider the issues you're trying to address with the competitor analysis.
Keep your goals at the front of your mind when carrying out your analysis so you can always refer to them without losing sight.
2. 'Really' know your competition
At this point, you might want to open a Google spreadsheet or chart and start creating a table of information. Jaime Levy has a comprehensive outline for creating a competitive analysis matrix. A good number at the beginning stage is around 5-10 direct and indirect competitors, so you can easily maintain and track what your competition is doing.
Direct competition consists of those people and companies who are doing what you do already. You share the same customers (or better still, you want their customers to become yours) and they offer the same product or service that you do.
Indirect competition is composed of those who offer something similar to what you offer. Maybe it is not the first part of their product or service but the second or third.
The nature of business means that competition can pop up at any time, anywhere. Keep a note of your competitors as they arise, so you do not forget them.
3. Look for commonalities among competitors
When looking for commonalities, it is a good idea to write down the actions users can perform, as well as the user journey of competitor products and services, and see if they match with what you are offering. Things to consider:
The tone and copy of the competitor
Good and bad features
User reviews
Wait/load times
Customer service
Design
Do not forget about the set of standards mentioned earlier which you can refer to. All of this can be put into your spreadsheet for reference.
4. Analyze and summarise
When analysing your UX research, create a small summary of what you have found out as well as what impact the information will have. This stage is perfect for identifying design opportunities because you understand your competitors' flaws (as well as your own).
Your analysis and summary can be used to convince team members, and stakeholders of any design changes you think would be beneficial or to argue for innovation.
5. Present your UX competitor analysis
After you have compiled your research, analysed it and synthesised the information into actionable insights, it is time to prepare a presentation of your findings for clients or stakeholders. This is your opportunity to act on those findings. You can even calculate the ROI of your UX activities to add weight to your findings.
Create a PowerPoint presentation containing the interesting information, backed up with evidence. It is vital that you discuss the impact of your research, more than the general findings: the impact is what can be transformed into actions which can transform business.
Focus on any surprises that came out of your research as this will be more engaging for your audience. Dharmesh Mistry has a few tips on just how to present your research effectively.
Common UX Research Pitfalls
Susan Farrell over at NNG has created a UX research cheat sheet to save you from falling foul of common UX research pitfalls.
A common error when carrying out a UX competitor analysis is the never-ending list. The last thing you want is to be drowning in information without any insights. That is why knowing your goals from the outset can help prevent this and give you focus.
Since the data is only as good as the person analysing it, to save yourself from misinterpreting the information you have compiled, it is advisable that you share your findings with a few other people (preferably someone who handles and interprets data regularly).
It can be tempting to reach preposterous conclusions from the data, especially when you factor in a generous dose of wishful thinking. Asking for advice means you can make sure the data and findings you present are accurate. UX designers should brush up on their analytical skills before attempting to do any analysis.
Conclusion
We live in a data-driven world, and the age of analytics reigns supreme. With so much data at our fingertips, it can be tempting to get lost among the numbers and percentages.
Carrying out a focused and thoughtful UX competitor analysis can help you get valuable insights that can help in multiple ways: generating more profit for the business, changing significant design elements of your product or service, or persuading key team members to innovate or move in a new direction.
Want to learn more?
If you'd like to improve your skills in User Research, then consider to take the online course User Research – Methods and Best Practices. Alternatively, there is an entire course on Usability Testing which includes templates you can use in your own projects. Lastly, if you want to brush up on the basics of UX and Usability, then consider to take the online course on User Experience. Good luck on your learning journey!
(Lead image: Depositphotos – affiliate link)