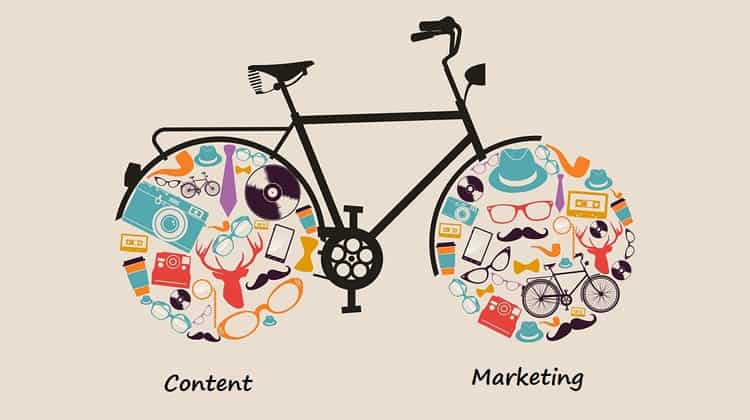 Having content on a site may seem to be not too much of a big deal, but you would agree to the fact that if there is no quality content on a site it can cut its story short.
If you can understand the role content plays in the global marketing sphere, you will understand why it is not only marketers who can't afford to ignore it. In fact, we have already highlighted how usability and online marketing overlap in some areas. This is one of them.
Content is a bonus that brings surplus
The Content Marketing Institute defines content marketing as: 'a marketing technique of creating and distributing valuable, relevant and consistent content to attract and acquire a clearly defined audience – with the objective of driving profitable customer action.' (Source).
This means that content marketing involves two dynamics:
Creating content that is both relevant and interesting
Disseminating or channelizing it
In fact, content marketing can be described as a bigger approach that paves path for a business. With the help of quality content, the audience gets to understand a brand, know about its products and services, and get interested into it. Thus, content marketing helps in exposing a business for its audience to know it, and generates effective brand promotion for it.
Content marketing: An impressive tool for business
A lot of buzz has gathered around the definition of content marketing. And it seems to stop nowhere. So, what exactly does content do? Content is becoming the most robust yet candid part of the global marketing industry and giving both fun and information to the customers.
Content marketing is something with the help of which a marketer goes to acquire new audiences and pitch products/services in the digital world; manage brand reputations; grow engagement; etc.
From smartphones to tablets and desktops, users have access to different types of content almost everywhere like website content, blog content, promotional ads and so on.
In a nutshell, one can't simply deny the role of content.
What makes content 'winning?'
Consumers in today's times are extremely fastidious. You can't detain them for something they do not become sure of or if they are unable to feel convinced about the qualities of a product/service. Therefore, always focus on delivering interesting content to your audience and convince them about your brand.
For this to succeed, your content should be interesting and helpful that can win the trust of your target audience so that they read it further and visit the site again.
Therefore, update fresh, new content at regular intervals. This is one good way to keep the audience well connected to your site and not disappoint them when they visit on it next time.
What is that content can do?
What helps most in the online marketing of a brand? Good quality content helps in the making of a brand by establishing it and allowing the audience to look through the brand, its products and services.
However, it is important that you don't waste people's time by offering them bad or poor content. Everyone values time and no one would give a damn to content that is not returning them anything in the exchange of their time 'wasted' into reading it.
You need to understand that the audience does not like to stay, if the content does not resonate with their interests or does not stir their curiosity to read any further.
According to Nielsen Norman Group, users tend to leave a page within ten to twenty seconds if they do not find anything relevant on a webpage. If they leave so quickly, it seems pretty clear that they have not liked it. Therefore, publish valuable content that gives your audience quick updates about your brand when they visit your site.
In addition to offering a great user experience, great content has several SEO benefits although great copywriting should always be the primary focus.
How does content advance?
It is the art curator who first creates the perception about an artwork among the audience even before the artist does. Likewise, the first impression about a brand is passed on to the audience through its content on the site. It curates the minds of the audience. Many professionals have confirmed that both marketers and the audience have severely suffered due to lack of good content.
Everything depends on how well you present your brand by means of content. Once the content is ready, the positioning of your brand begins. With the help of great content, you can connect with the online audience and promote your products and services for sales. Regularly posted, new and impressive content has the ability to tone up with the regular customers and retain them for a long-term.
Content, already the route of profit for many
There are many brands that understood the mileage of content marketing and used it to gain great benefits out of it in a timely manner. Very often when people visit a site, they like to read innovative stories about the brand. Coca Cola is a great example to follow, especially in the way it continuously tells exciting stories to its audience, keeping them enticed. Its consumers come back to read them again and again.
For many successful brands – Intel, Virgin Mobile and American Express, to name a few – content has been a great help in connecting them easily with their consumers. These brands have successfully adopted content in various forms – infographics, bulletins, opinion posts, video series and so on – as their key marketing tool.
Content + marketing is the future
Every brand aspires to bring sales on their way and become a major profit-earning business. By the time these established brands have presented their innovative concepts, they knew that they had kicked off their sales and probably leading the market.
By now, the global marketing industry is already spending over 20 percent of its marketing budgets on content marketing, and it is yet to grow in the coming years. This duly owes to the persistent growth content marketing is offering to these brands.
Summing up
Content marketing means creating impressive content and sharing it with the audience to help them know you. If you are a digital marketer, you understand the importance of using content marketing for the benefit of your brand. This way of marketing comes as an easy way of attracting the sales leads by the way of creating innovative stories of your brand. Users visiting your site want valuable information that can generate their trust in your brand and help them buy. For them, content is the best medium to say what your brand is all about.
Want to learn more?
If you're interested in the managerial and strategic aspects of UX, then consider to take the online course on UX Management and Strategy. If, on the other hand, you want to brush up on the basics of UX and Usability, then consider to take the online course on User Experience (or another design topic). Good luck on your learning journey!