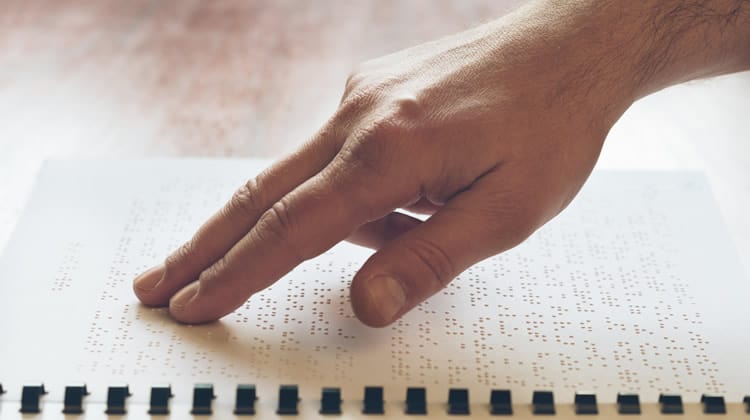 It is not difficult for a sighted person to imagine how being blind or visually impaired could make using a computer difficult. Just close your eyes and you will instantly experience that even processing text is impossible – or impossible without additional software at least. Now a range of software is available that can help to make using a computer an easier, more enjoyable and more productive experience for blind or visually impaired users.
For in-depth insights on accessibility, we recommend the online course on Accessibility at the Interaction Design Foundation.
Essential Software: A Screen Reader
A screen reader is an essential piece of software for a blind or visually impaired person. Simply put, a screen reader transmits whatever text is displayed on the computer screen into a form that a visually impaired user can process (usually tactile, auditory or a combination of both). While the most basic screen readers will not help blind users navigate a computer, those with additional features can give people with visual impairment much more independence.
Whilst most screen readers work by having a synthetic voice that reads text aloud, others can also communicate data via a refreshable braille display. Such screen readers make use of crystals that can expand when exposed to particular voltage levels (thanks to a phenomenon known as the Piezo Effect), allowing visually impaired users to use their fingers to read the text that is displayed on screen. But while screen-reading software can be affordable, such hardware is usually very expensive.
Free Software Makes 'Universal' Access a Reality
Many people could not afford the expensive price tag associated with some of the more sophisticated screen readers. Luckily for them, there are several screen reading software that are completely free. The following is a list of free screen readers that one can download:
Software for Work and Play
Such software is essential for blind users to read the content of web pages or communicate with friends and colleagues. As more sophisticated software has been made available to a larger audience, people have begun turning their attention to developing leisure programs that are designed with accessibility in mind. For example, the website blindsoftware.com has an accessible mp3 player to download and a selection of games.
Developing Software for Everyone
When it comes to universal access, several people with hearing or visual impairments or illnesses have found that it can become a barrier to using traditional software. The goal is to remove those perceived barriers and help them be able to achieve results beyond their imagination. This is why it is important that developers continue to work on making software as accessible as they can for a wide range of people, so everyone can benefit from the powerful tools computers offer.
Want to learn more?
If you'd like to brush up on Accessibility and get practical skills on the subject, then consider to take the online course on Accessibility. If, on the other hand, you want to go over the basics of UX and Usability, you could take the online course on User Experience. Good luck on your learning journey!
(Lead image: Depositphotos)